FAQ
Question: Do you have any payment plans ? Do you offer financing?
Yes. The FB Gym™ is incredibly affordable but we have made it even easier for you with our $30, 30 Day Risk Free Trial. If approved, you pay only $30 now and small monthly payments starting 30 days later. Click here for details.
Question: How much resistance does the FB Gym™ offer?
The resistance force of our system varies with the speed of your exercise. In general, the 12 position dial settings provide a range of resistance from 10 to 200 lbs. These resistance measurements were taken at a speed of 21 reps per minute. A quick thrust or jerk is much higher. The dial settings serve as a personal reference and goal system as your exercise routines progress and your fitness improves. An additional resistance kit is available for the main resistance cylinders that can effectively double the resistance shown up to a possible 400 lbs of resistance.
Question: What is the User Weight Limit?
The FB Gym™ is made of heavy duty steel. The bench is supported by two steel support beams and three steel cross members. Because of its' heavy duty construction the FB Gym™ can accommodate users up to 350 lbs.
Question: What is the User Height Limit?
The FB Gym™ can accommodate all users up to and including 6'5″ tall.
Question: What are dimensions of the home gym when it is folded down?
When folded the gym takes up very little room. Its folded foot print, the size of the base is very small. The gym folds down to a length of 74″. With the ab unit attached the length is 81″. This is the height when folded. When the unit is folded up the dimensions of the base are 24″ X 36″. This is the area of your floor that will be taken up when the gym is folded. Very small for a gym of this caliber and quality.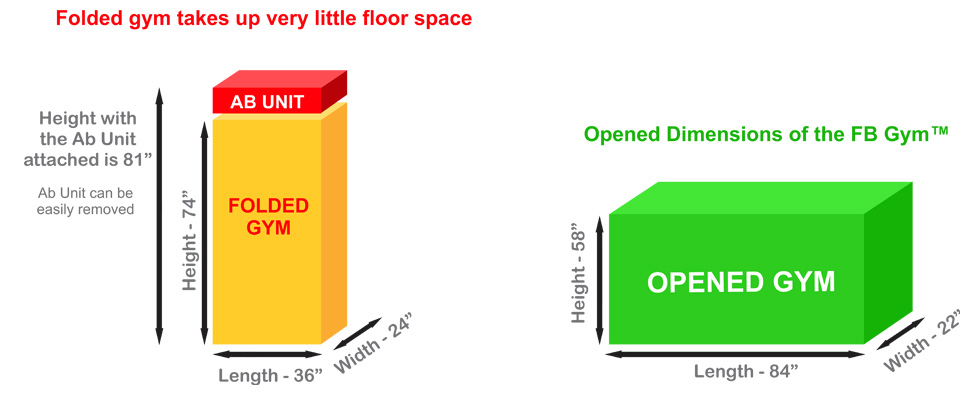 Question: Is it difficult to fold the Home Gym?
Not at all. This was a key design goal for the product. To fold the Home Gym you only need to remove the lock pin, fold it up and reinsert the lock pin to lock it in the vertical position. It takes just a few seconds.
Question: Do you have to disassemble and reassemble the home gym to complete the different exercises for a workout program?
No. You can easily do a workout program without changing anything. There are dozens of exercises you can choose from. There are only 2 exercises that are more comfortable without the ab unit attached so you may want to remove it for those exercises, but even that is quick and easy.
Question: How long does it take to assemble the Home Gym?
The Home Gym comes partially assembled. It can be assembled completely by most users in approximately 30 minutes. No tools are required. We supply whatever you need.
Question: How does the FB Gym™ compare to Bowflex®?
Our site does a good job of answering this question. We as well as many of our customers firmly believe that the FB Gym™ is a superior value that can produce excellent results. We prefer you make an informed decision for yourself. Please review this page, including all videos to learn more. We also recommend that you review the side by side Bowlfex® Comparsion Chart. If you have additional questions, fitness consultants are standing by to help.
Question: Do you offer a trial period?
Yes. You have 30 days to check out the product and see the incredible quality and great value you have gotten. In addition, if you choose and are approved for our financing program you only pay $30 for the first 30 days and then small monthly payments after that. Please click here to review the details of our policies before you order.
Question: Do you accept credit cards?
Yes we accept all major credit cards. Visa, Mastercard, Discover and American Express. We also accept PayPal and have a fantastic financing program.
Question: Is your site secure?
Absolutely. We use the highest form of encryption possible to ensure your privacy and safety. In addition, our site is monitored 24 /7 by GeoTrust, a leading security monitoring firm. You can rest easy placing your order at your convenience 24 hours a day, 7 days a week.
Question: Can I see all of the exercises?
Yes. Enter your name and email address where indicated at the top of this page to receive a free exercise manual.
Question: How long will the resistance cylinders last? Will they wear out?
No need to worry about this. You are covered by a fantastic warranty. In addition, we have found that the cylinders, when used properly, can provide many, many years of use without any issues. If you are still worried you do have the option to purchase an extended or even a lifetime warranty. Check out our complete warranty policy for details.

Return to Previous Page

Home Page